Fuyao received BYD "Outstanding Strategic Partner" award.
Back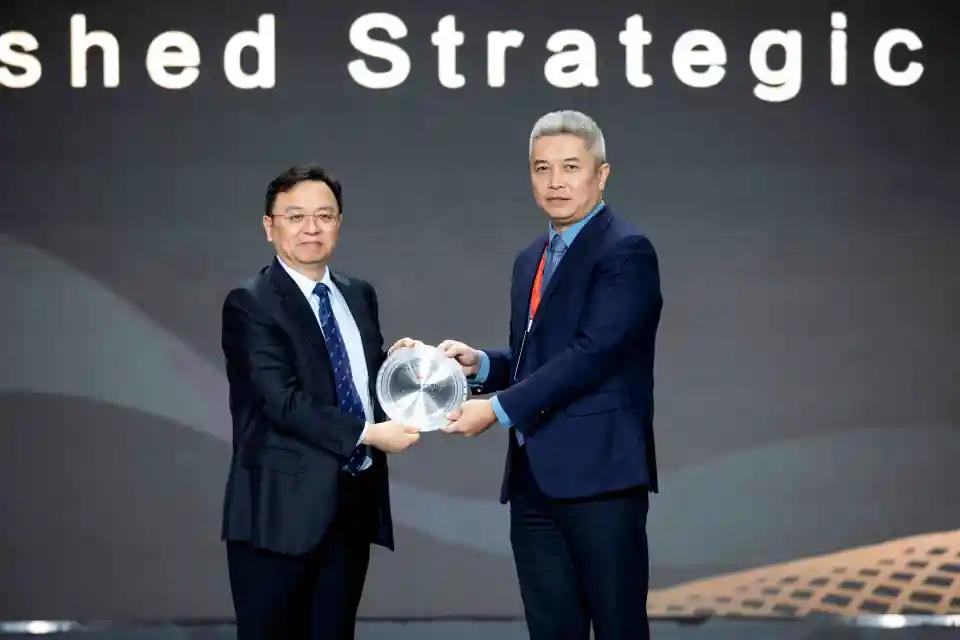 Chairman Wang Chuanfu (left) presented the Outstanding Strategic Partner Award to Mr. Ye.
On November 15th, 2021 BYD New Energy Automobile Core Supplier Conference was held in Shenzhen BYD headquarters. At the conference, Mr. Wang Chuanfu, Chairman and President of BYD, presented Fuyao Group with the "Outstanding Strategic Partner" award. Ye Shu, President of Fuyao Group, took the stage to receive the award and delivered a speech.
A total of 50 core suppliers were invited to attend the conference. Wang Chuanfu, chairman and president of BYD, delivered a keynote speech, introduced the development of BYD Auto, shared the direction of new energy auto industry and BYD's new development strategy in the future, and thanked Fuyao and other core suppliers for their support to BYD.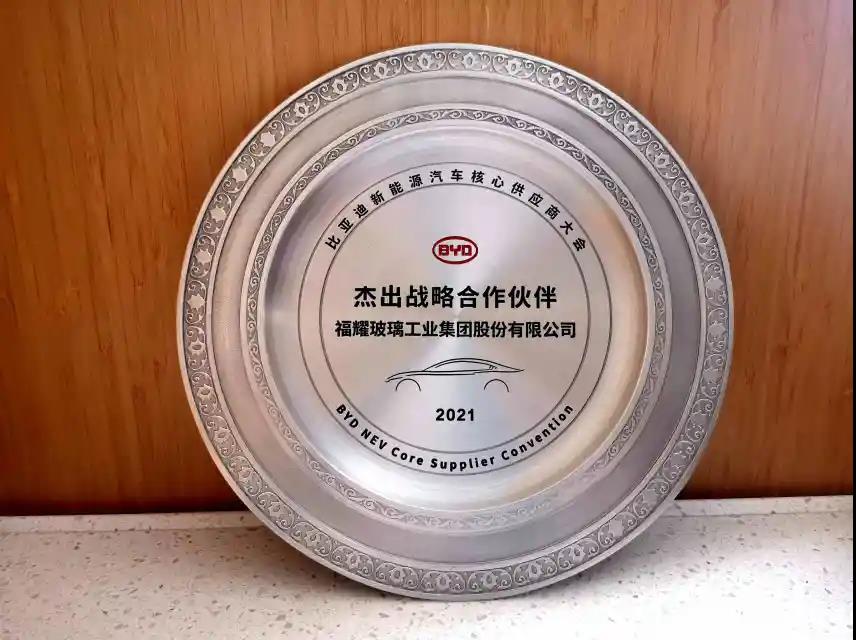 In the speech at the conference, Mr. Ye said that world has entered a new era of accelerating change at present, and the development of the automobile industry is bound to face more and more uncertainties. Fuyao Group is also willing to work with BYD to actively carry out the mission of Chinese national enterprises with the belief to " Comply with laws and regulations, focus on interested parties and stick to perfection.", and make greater contributions to the country's strength, social progress and people's prosperity.
From the first car of BYD, Fuyao has been contributing for 18 years of continuous cooperation. In 2020, at BYD's headquarters, Chairman Cao Dewang received the key of the flagship model "Han" from Chairman Wang Chuanfu, which made a great contribution to the cooperation between the two parties and also marked that BYD and Fuyao entered a new field of deep cooperation. Both sides contributed full of their respective technology and production advantages, and work together to develop and apply new technologies such as energy conservation and environmental protection, intelligent control, panoramic canopy, etc. Ultimately, they can create a more intelligent, personalized, low-carbon and environmental-friendly driving experience for the world.